The Visitor Center is located just off Melvin Evans Highway, on the south shore of the island.
The Captain Morgan Rum Distillery offers daily tours to learn about this fascinating craft. Come
see how the globe's top selling rum is made and learn about the man behind the
legendary Captain Morgan Rum. Make a reservation to tour the distillery below.

Distillation Unit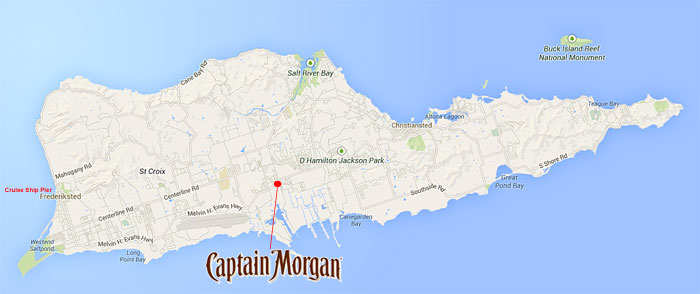 Click map for a larger view.
TOUR ADMISSION
Adults $10.00; Military $5.00; Island Residents $5.00; Children and Seniors (60 & older) $3.00.

CAPTAIN MORGAN GIFT SHOP
HOURS OF OPERATION
MONDAY – FRIDAY 9 A.M. – 4 P.M.

DISTILLERY TOURS
MONDAY – FRIDAY
10 A.M. 12 P.M. 1 P.M. 3 P.M.
We apologize for any inconvenience.

SEASON: NOVEMBER – MAY
TOUR TIMES (MON-FRI):
TOP OF EACH HOUR 10AM – 3PM
SATURDAY & SUNDAY
By reservation only
10AM – 12PM
OFF PEAK: JUNE – OCTOBER
TOUR TIMES (MON-FRI):
10 AM – 12 PM – 1 PM – 3 PM
SATURDAY & SUNDAY
By reservation only
10AM – 12PM
2018 HOLIDAY CLOSURES
Monday, January 1 – New Year's Day
Thursday, January 4 – Three King's Day
Thursday, January 18 – Martin Luther King, Jr. Day
Friday, March 30 – Good Friday
Monday, April 2 – Easter Monday
Monday, May 28 – Memorial Day
Wednesday, July 4 – Independence Day
Monday, September 3 – Labor Day
Sunday, November 11 – Veteran's Day
Thursday, November 27 – Thanksgiving Day
Friday, November 28 – Thanksgiving Second Day
Tuesday, December 25 – Christmas Day
Monday, December 31 – New Year's Eve