St. Croix Car Rentals / Agencies
Every type of car rental is available on the island...from small economy cars to full-size vans and every vehicle in between. You can rent a Jeep, convertible, sedan, SUV, minivan...you name it! Car rental rates on St. Croix in the U.S. Virgin Islands are quite similar to those in the states.
There is a lot to see and do on St. Croix and a rental car, SUV, Jeep or minivan makes it easy and much less expensive than relying on taxis. The St. Croix Heritage trail is a great way to see the island and its many historic and beautiful sites. The trail is a 72-mile driving tour that connects the island's historic sites and attractions as well as many of the island's natural areas. Historic marker road signs, with the trail's brown and white sugar mill symbol, guide visitors along the route which runs between Frederiksted and Christiansted. The trail takes you north to Hamm's Bay on the west end and all the way to Point Udall on the eastern most point of the island.
St. Croix is only about 27 miles long and 8 miles wide at its widest point. Even so, you will see a lot of diversity as you travel the length of the island. The East end is more arid, with cactus and gently rolling hills. As you make your way to the west end in your rental car, you will pass through large tracts of mostly flat land that has been used for everything from growing cotton and sugar cane, to raising cattle...which by the way is still done on the island! The west end has much higher hills, some approaching mountain status, and a small rainforest...the only one in the U.S. Virgin Islands. You can also take a Jeep up to the scenic drive which follows a path along the tops of the highest ridges.
Drivers are usually required to be a minimum of 25 years old. U.S. drivers need a valid driver's license and insurance information. Others can purchase a temporary license.


Welcome to the Beautiful Island of St. Croix!
"Voted best of the VI in the Car Rental Category"
Budget's rental counter and cars are located right at St. Croix's Henry E. Rohlsen International airport, Plus there are locations in Christiansted near the Seaplane ramp. For cruise passengers, we are located in Frederiksted, right across from the Pier. At Budget you'll find a friendly, caring staff and the newest models of cars, SUVs and vans.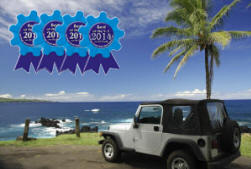 Lowest rates! Daily, Weekly, Monthly!

Free pickup and drop off at any hotel

Pickup Service at any hotel

Unlimited Free Mileage

Cars, Jeeps, SUVs and Vans

GPS and Car Seats Available
For rate quotes, available vehicles and reservations click here: www.BugetStCroix.com
Toll Free 1-888-264-8894, 1-340-778-9636 or 1-340-778-4663
P.O. Box 278, Christiansted, St. Croix USVI 00821

With our friendly staff, Skyline is the most efficient car rental on the island of St. Croix, allowing you the opportunity to drive in comfort and relaxation.


Centrally located, we provide the Island's best rates from our fleet of passenger Cars, SUV's, Jeeps and Mini-vans. We provide free pick-up and delivery service with free unlimited mileage.
Most major credit cards accepted. NO PORT FEES OR FRANCHISE FEES.
For more information or reservations, please email or cal us, our friendly staff awaits to serve you!
Phone: 1-340-719-5990, Fax: 1-340-719-5991, Toll Free: 1-877-719-5990
E-mail:
skyline@vipowernet.net
Website:
SkylineCarRentals