The waters surrounding St. Croix are ideal for sport fishing and record size catches are not uncommon...be it Off Shore or Inshore Game Fishing, Shallow Water and Flat Fishing. The weather is perfect year round and you will spend a lot less time getting to the fish than you are accustomed to elsewhere. This is because the waters around St. Croix plummet to over 3000 feet very close to shore! For a half or full day of fabulous St. Croix sport fishing, choose one of the charter companies below.
Off Shore Game Fishing

Atlantic Blue Marlin - White Marlin
Yellowfin Tuna - Blackfin Tuna
Skipjack Tuna - Dolphin Fish (mahi-mahi)
Sailfish - Wahoo

Near Shore Game Fishing

Bonito (Little Tunny) - Barracuda
Bar Jack - Cero - Crevalle Jack
Hardnose - Kingfish - Rainbow Runner
Yellowtail Snapper

In-Shore and Flat Fishing

Barracuda - Bonefish - Jacks
Mahogany Snapper - Permit
Snook - Tarpon

Fishing Tournaments in St. Croix

Golden Hook Challenge (February)
Dolphin Tournament (March)
Guy/Gal Reel Challenge (September)
Wahoo Tournament (November)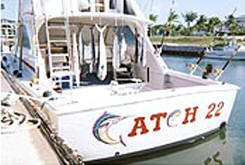 Catch 22
Imagine deep water only one mile offshore. We have been operating fishing charters from St. Croix for over 30 years and are known for our outstanding catches of: Dolphin, Tuna, Wahoo and Marlin. We will take you to some of the best off shore fishing grounds in the Caribbean Sea!

CATCH 22 is a 38' Bertram wide body sport fisherman.
Prices per trip: 6-hrs - $800.00, 8-hrs - $900.00
(Prices may vary according to fuel surcharges. All trips must be cancelled within 48 hours to receive a refund. If trips are not cancelled within 48 hours the credit card will be charged the full price of the charter.) Maximum Six (6) passengers. Trip includes: bait & tackle. All fish stay with the boat, but Capt. Dave will be happy to provide the angler's with a portion of the catch for dinner.
Captain Dave - 340-778-6987, Email: info@catch22stx.com
www.Catch22stx.com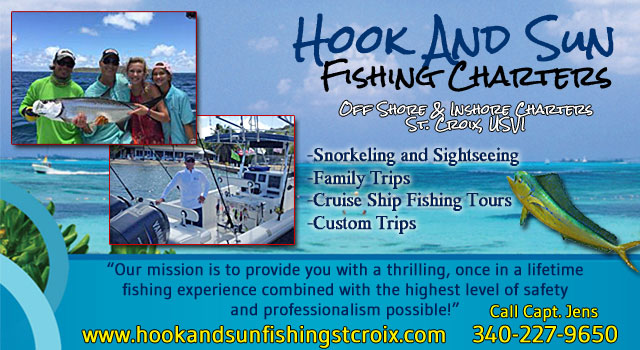 Hook and Sun Fishing Charters - Call Captain Jens Hookenson at 340-227-9650 - Off Shore & Inshore Charters - Snorkeling and Sightseeing, Family trips, Cruise ship fishing trips, custom trips. Our mission is to provide you with a thrilling, once in a lifetime fishing experience combined with the highest level of safety and professionalism possible!
---
U.S. Virgin Islands Fishing Regulations
RECREATIONAL FISHING (PERSONAL USE)
All recreational anglers fishing in the exclusive economic zone, from 3 to 200 miles offshore from land are required to register with NOAA Fisheries at www.countmyfish.noaa.gov. Recreational anglers, refers to persons who fish for the sole purpose of providing food for themselves or their families, and those who catch and release fish. SALE, OR BARTER, OR TRADE, OF CATCH BY RECREATIONAL FISHERS IS PROHIBITED. The following gear types are considered commercial gear and may not be used by recreational fishers: pots, traps, haul seines and set-nets (set-nets are a type of net consisting of a wall of fine mesh held up by a float line and anchored on the sea floor). Additionally, fishers are required to have permits to fish in the following St Croix locations:
Altona Lagoon and Great Pond, St. Croix. No Commercial fishing. A recreational shrimp fishing permit is required for the harvesting of shrimp. A $10 one-year permit is available at the Division of Environmental Enforcement St. Croix office (contact information on back cover).
More information can be found in the U.S. Virgin Islands Commercial & Recreational Fishers' Information Booklet published by DPNR's Division of Fish and Wildlife and the Division of Environmental Enforcement, dated July 2012. Download DPNR's Booklet (PDF File).
---
St. Croix Inshore Fishing - 340-514-6078
Golden Hook Fishing Club - 340-778-5738 Ext. 223