St Croix Bars, Live Music, Entertainment, Casino, Nightlife
While St. Croix is not known for it's nightlife, many restaurants, bars and hotels feature "live music" with everything from pop to reggae to jazz, including piano bars. You can also find several Traditional West Indian Dance and musical troupes.

The Caribbean Community Theatre is a non-profit, volunteer-based organization dedicated to making theatrical productions of the highest quality available to residents of St. Croix and visitors. Throughout the years our dedication to the theater arts has attracted many aspiring, committed non-professionals. We produce at least five plays each year in our theater at #18 Estate Orange Grove, Christiansted, St. Croix, U.S. Virgin Islands. For directions or more information, call 340-778-1983 or 718-4229; or email eileencct@gmail.com. Website: www.cct.vi
There are many other events and festivals held throughout the year.

"Jump Up" in Christiansted - For a good time, go to "Jump Up" which is held at various times throughout the year. This is a "carnival-like" evening filled with steel bands, dancing, local arts and crafts, island food, and lots of fun in the streets and along the waterfront of Christiansted! Click here for more info.
Mardi Croix - each February Cane Bay, on the scenic north shore of the island, is transformed into one big colorful and noisy party...St. Croix's version of Mardi Gras...MARDI CROIX! Click here for Mardi Croix photos.
The ST. PATRICK'S DAY PARADE began in 1969 when a group of local businessmen convened in HARRY'S OFFICE BAR on Queen Cross St. in Christiansted for a "cool one". The conversation got around to holidays and why St. Patrick's Day wasn't celebrated in the Virgin Islands, when so many other holidays were. Something had to be done! Within minutes, the first St. Patrick's Day Parade was born. To this day, it is going strong and is an important day for the community, beneficiaries and tourists. Click here for more info.

Radio
Listen to Virgin Islands Radio Stations Live -
Isle 95 - Mongoose 104.9 FM - Sunny 99.5 FM - WSTX FM 100

Casino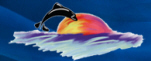 The Divi Carina Bay Casino offers live music late into the night.

Movie Theaters
Sunny Isle Theaters - 340-778-5620

Sunset Jazz and More! in Frederiksted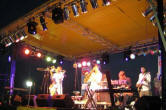 Sunset Jazz in Frederiksted, St. Croix is a community event offered on the third Friday of each month. Admission is free and families are welcome. Residents and visitors alike meet, mingle and enjoy great jazz wafting over the waters of the Frederiksted harbor, as well as the guarantee of a beautiful sunset in this wonderful park setting. Hosting locally and internationally acclaimed jazz artists, Sunset Jazz in Frederiksted has received an enthusiastic reception, and has become a much anticipated monthly island event. In addition to various forms of Jazz, you can now see local artists play Quelbe Jazz Fusion, the Sounds of Motown and the Big Band Era. The event still concentrates overwhelmingly on Jazz artists, so if you are on St. Croix on the third Friday of any month, head on down to Freedom City Frederiksted and join us for this months' edition of Sunset Jazz and More!

Sunset Sail with Live Music
Lyric Sails St. Croix - 340-201-5227 - St. Croix's Newest Excursion! Sunset Sails and Moonlight Sails with live music departing from Frederiksted! Full Bar. Yoga Cruise. Private Charter, Weddings. See our ad here.

Local St. Croix Musicians, Performers and Live Music

Steven Katz - Incredible guitar player! www.stevenkatzmusic.com

Mercy Child - www.myspace.com/mercychildmusic

Michael Justis - everything from Jerry Garcia to country singer Chris Knight.
Click here for more info on Micheal Justis

Kurt Schindler - you have to see this guy! www.kbschindler.com

Adrian Rogers - singer/songwriter playing a blend of high energy folk style music.

Coral Fire - Fire Dance & Performance Troupe


Restaurants and Bars with Live Music

The following restaurants and bars have live music entertainment on various nights of the week. Check our Dining and Restaurant Guide for phone numbers.

Angry

Nates - Boardwalk, Christiansted

Beachside Café - at Sand Castle on the Beach, West End, South of Frederiksted

Blue Moon - Frederiksted

Blues' Backyard BBQ - Estate La Grande Princesse, Rte 75

Brew STX - Boardwalk, Christiansted

Buccaneer Terrace Lounge - at Buccaneer Hotel

Castaways - Estate Solitude - East End

Cheeseburger's - East End

Comanche Pavilion Lounge - Comanche Hotel, Christiansted

Comanche Rum & Wine Bar - Comanche Hotel, Christiansted

Comanche Mill Yacht-less Club

Comanche Mill Yacht-less Club

Comanche Mill Yacht-less Club

Comanche Mill Yacht-less Club - Boardwalk, Christiansted

Dashi - Caravelle Arcade, Christiansted

Deep End Bar - at Tamarind Reef Hotel

Domino Club - Rain forest

Divi Casino Showbar - East End

eat@canebay - Cane Bay Beach

Off the Wall Beach Bar - Cane Bay, North Shore

Rowdy Joe's - North Shore, just east of Cane Bay

Seini's Golden Rail - Mill Harbour condos

Scooter Bar on the Boardwalk - Christiansted boardwalk

Shupe's - On the Christiansted Boardwalk

Sprat Net Beach Bar - Cane Bay, North Shore

The Palms at Pelican Cove - La Grande Princess, just west of Christiansted

Rhythms at Rainbow Beach - Rainbow Beach, Frederiksted

Rowdy Joe's - North Shore near Cane Bay