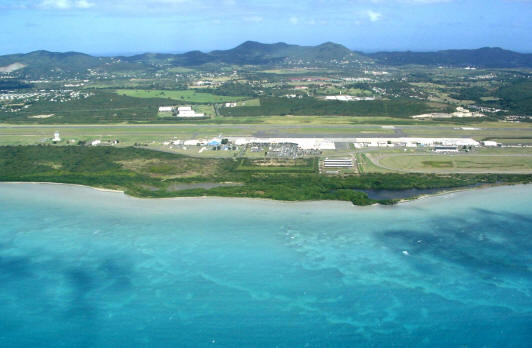 Click here for US Virgin Islands entry / exit requirements.
Airline flights to St. Croix arrive at Henry E. Rohlsen International Airport. The airport code is STX. There are also several regional airlines servicing the island such as two Sea Plane airlines that fly between St Croix and St Thomas. Click here for more airport information.
Direct Jet Flights from Mainland U.S.
From Miami: American Airlines (daily, year round)
From Charlotte: US Airways (Peak Season)
Flights with Connections via San Juan Puerto Rico
American, Continental, United, Delta, also from Canada and Europe, etc.
Cape Air
American Eagle
Jetblue
Seaborne Airlines
United Airlines (connections with partner airlines)
Flights from St. Thomas to St Croix
Seaborne Airlines Seaplane (downtown to downtown)
Sea Flight Sea Plane
Cape Air
LIAT
- 800-474-4884


Click here for links to worldwide Airlines

- 800-474-4884
- 888-879-8900
- 800-352-0714
- 800-523-3273
- 800-221-1212

-800

-538-2583
- 340-774-2313
- 340-773-6442
- 800-622-1015
- 800-241-6522
Many other Major carriers fly directly into San Juan, Puerto Rico. St. Croix is a short, 25 minute flight, on one of many commuter flights out of San Juan to St. Croix.
Here are some approximate flying times to St. Croix. These times include connections and airport layovers. Flying times may vary depending on your particular connections:
Miami: 2 ½ hrs
New York: 3 ½ hrs
Chicago 6 ½ hrs
Denver 10 hrs
San Francisco: 10 hrs
Houston: 5 hrs
San Juan: ½ hr
If you are arriving from Europe, you can fly to many gateway cities on the East Coast of the U.S., such as New York, and then connect thru San Juan Puerto Rico. You can also fly to Miami and then connect on a direct flight on American Airlines to St. Croix. You can also fly to Antigua or St. Martin and then on to St. Thomas on WinAir or Liat and then connect to St. Croix!
Check directly with the airlines for St. Croix airfares.
OLYMPIC Rent - A -Car
proudly serving St. Croix for more than 30 years!
With Olympic's reasonable rates and reliable vehicles, you will be able to enjoy your Caribbean vacation in style.
1-888-878-4227 - Hablamos Español - www.OlympicStCroix.com
Every type of vehicle is available for rent on St. Croix...from a small economy cars, to a full-size van and everything in between. You can rent a Jeep, convertible, sedan, SUV, minivan...you name it! Rates are not that much higher than they are in the states.
Drivers are generally required to be a minimum of 25 years old. U.S. drivers need a valid driver's license, others can purchase a temporary license.
Driving is on the left side of the road on St. Croix!!!
Click here for more St. Croix Car Rental Agencies
All taxi drivers should carry a rate card with approved fares set by the Taxi Commission. Taxis have no meters and charge by zone. Roundtrip fares are double. There is also a charge for baggage and waiting time. Most taxis will take you on an island tour ranging from US$30-$45 for up to 2 people, US$12 per person for additional passengers. Don't get in a vehicle that doesn't have "TP" on the license plate and a dome light above the taxi because without those it is not an authorized taxi. You can see some current ST CROIX TAXI FARES by clicking here. The following are some taxi company phone numbers:

Dependable, Courteous & Professional Service

Call Day or Night for Taxi Service

Airport Service, Island Tours, Island Transportation
Pick-ups at Cruise Ship Pier!

Call Rudy's Taxi Service at...

1-340-514-4600 (Rudy's cell)
1-340-773-6803 (home)
1-340-514-9336 (Eslyn's cell)
St. Croix Taxi Association, Airport - 340-778-1088
Antilles Taxi Service, Christiansted - 340-773-5020
Caribbean Taxi and Tours, Christiansted - 340-773-9799
Cruzan Taxi Association, Christiansted - 340-773-6388
Territorial Taxicab Umbrella - 340-692-9744
Combine Taxi and Tours, Frederiksted - 340-772-2828
Frederiksted Taxi Service, Frederiksted - 340-772-4775

Taxi stands in Christiansted are on King Street near Government House and at Market Square: in Frederiksted by Fort Frederik. You can stop by and make arrangements to be picked up later in the day.
Public buses, through the VITRAN agency, serve St. Croix. Most fares are in the $1.00 range. The buses operate between 5:30 a.m. and 9:30 p.m. seven days a week. Bus routes connect most residential, commercial, and tourist areas. Please keep in mind that the buses are not very reliable and should not be relied upon to get somewhere in a hurry or on time. This is particularly important to cruise ship passengers trying to make it back to their ship on time! There are also private tour bus operators that provide service through most hotels. 340-773-1664
There is currently NO regular ferry service between St. Croix and St. Thomas.