Transportation - St. Croix, USVI
Airline flights to St. Croix arrive at Henry E. Rohlsen International Airport. The airport code for this airport is STX. There are also several regional airlines servicing the island such as two Sea Plane airlines that fly between St Croix and St Thomas.

Click here for more airport information.
Airlines that fly Directly to St. Croix the from Mainland U.S.:
American Airlines flies daily and year round from Miami
US Airways flies from Charlotte during Peak Season
Delta flies from Atlanta during Peak Season
Spirit - from Fort Lauderdale-Hollywood International Airport (FLL) direct to St. Croix
Airlines that fly to St. Croix with Connections via San Juan, Puerto Rico:
American
United - (connections with partner airlines)
Delta
(the airlines above also fly from Canada and Europe, etc.)

Cape Air - (Partners with American Airlines, Delta Airlines, JetBlue Airways, United Airlines, Alaska Airlines, Seaborne Airlines and Jetblue)
Seaborne Airlines
Airlines that have flights from St. Thomas to St Croix:
Cape Air
Seaborne Airlines Seaplane (downtown to downtown)
Sea Flight Sea Plane
LIAT
Click here for US Virgin Islands entry / exit requirements.
- 800-474-4884

- 800-352-0714
- 800-221-1212

-800

-538-2583
- 340-774-2313
- 340-773-6442
- 801.401.2222
- 800-241-6522
You can also connect in San Juan, Puerto Rico with several other major airlines. The flight from San Juan to St. Croix is only about 30 minutes. Many of these airlines will partner with regional airlines like Cape Air, Seaborne and Liat.
Approximate travel times to St. Croix including connections and airport layovers. Depending on the airline, and your exact connections, the flying times may be shorter or longer:
Miami: 2 ½ hrs
New York: 5 ½ hrs
Chicago 6 ½ hrs
Denver 10 hrs
San Francisco: 10 hrs
Houston: 5 hrs
San Juan: 30 min.
When flying from Europe, you can connect through several gateway airports on the East Coast of the U.S., such as New York, Washington D.C., Boston, etc. and then connect thru San Juan, Puerto Rico. You can also fly to Miami and then connect on a direct flight on American Airlines to St. Croix.
Be sure to check directly with each airlines for St. Croix flights/connections and airfares.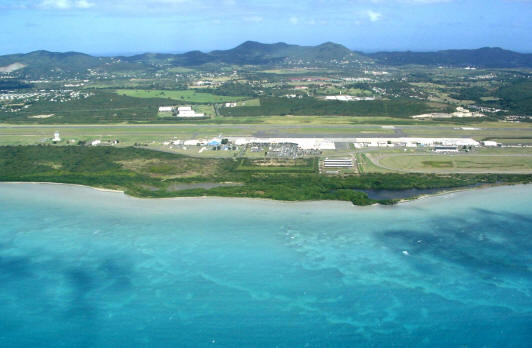 There is a large selection of rental vehicles on St. Croix...depending on which rental agency you choose, you can select a small economy car to a full-size van and and just about everything in between. There are also Jeeps, convertibles, SUV's, and minivans available! Rental rates are only a little more than on the U.S. mainland.
You must be a minimum of 25 years old and hold a valid drivers license. If you are not a U.S. citizen, you can purchase a temporary drivers license.
Remember to KEEP LEFT! We drive on the left side of the road on St. Croix!!!
Click here for more Car Rental Agencies on St. Croix.
Sorry there are no scooter rentals on St. Croix at this time.


St. Croix Taxi Fares, Rates and Tariffs
Rate cards with approved fares set by the Taxi Commission are carried by all drivers. Taxi fares are charged by zones and are "one way". There are additional charges for baggage and any time the driver has to wait for you. You can arrange for an island tour with many taxi drivers. The rate for an island tour can range from $30-$45 for up to 2 people, $12 per person for additional passengers. Vehicles that don't display a "TP" on the license plate and a dome light above the taxi are not authorized taxi and are not recommended. Taxi rates are set by the government's Taxi Commission (340-773-8294), which also fields any complaints.
Taxi stands can be found at the airport adjacent to baggage claim. They can also be found on King Street in Christiansted (near the Government House), and by the Market Square which is next to the post office on Company Street. Taxis can be found in Frederiksted on Strand Street, by Fort Frederik and by the cruise ship dock. You can make arrangements with a driver to be picked up later in the day or schedule an island tour. You can also flag down taxis that you see driving around and share the taxi with locals for about $2.50.
Click here for ST CROIX TAXI FARES and RATES.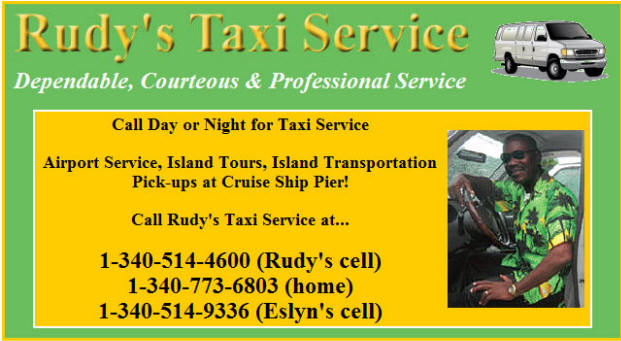 Antilles Taxi Service - 340-773-5020, 340-690-9585
Crucian Taxi - 340-773-6388, 422-1856
Rudy's Taxi & Tours - 340-773-6803, 514-4600
St. Croix Taxi Association, Airport:... 340-778-1088
Sweeny Tours Taxi Service - 340-514-7734, 514-1594
Will and Berns Taxi Service - Frederiksted - 340-772-4775
St Croix Taxi Fares/Rates/Tariff

St. Croix Buses - VITRAN - Public Transportation
Public buses, VITRAN, do operate on St. Croix. Expect to pay about $1.00. Hours of operation are 5:30 a.m. and 9:30 p.m. 7 days a week. Bus routes connect most residential, commercial, and tourist areas, but unfortunately, are not very reliable. We don't recommend relying on the buses if you are in a hurry or for them to be on time. Cruise ship passengers should not rely on the buses to get back to their ship on time!
340-773-1664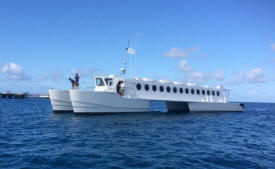 QE IV ferry leaves Gallows Bay, St. Croix, at 8am on Thursday, Friday, Saturday, Sunday, and Monday. It leaves the Edward Wilmoth Blyden IV Marine Terminal on the St. Thomas waterfront at 3pm.

Passengers are asked to arrive 30 minutes prior to the boat's departure with check-in closed 15 minutes before departure.

For more information and tickets,

call 340-473-1322

NATIVE SON FERRY - Offering One Way and Round Trip service from St. Croix to/from St. Thomas on Wednesday Friday and Sunday only. 340-998-0990.

For more information and tickets, call 340-473-1322