St. Croix, USVI Tourist Information Guide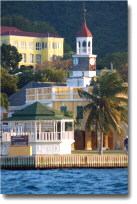 St. Croix, USVI is an island paradise. With it's lush tropical hills, warm and brilliantly turquoise water, a rich history and wonderful tropical climate, St. Coix is a hidden jem in the Caribbean. You will find beautiful white sand beaches...fabulous, tropical weather...great dining...lots of duty free
shopping...incredible SCUBA diving...three golf courses...two historic and charming towns, all wrapped up in a friendly and laid back island atmosphere. You won't find the crowds that many other Caribbean destinations can have and its easy to travel to St. Croix from the U.S. mainland. U.S. citizens don't need a passport...and you will be supporting a U.S. territory while you enjoy your Caribbean vacation! "Saint Croix" is only a 30 minute flight from the international airport in San Juan, Puerto Rico. The island can also be easily reached on direct flights from the states on American Airlines (through Miami), US Air (through Charlotte), and JetBlue through San Juan, Puerto Rico.
Upcoming Events

Reef Jam - Sunday, May 26, 2013, more info...
Women's Coalition - Annual Women's Race - Sunday, June 2, 2013, more info...
14th Annual Kayak for Kids - Sunday, June 9, 2013, more info...
Jump Up! - Friday July 5, 2013, more info...
Mango Melee! - Sunday, July 7, 2013, more info...
Visitors to St. Croix will enjoy a wide variety of indoor and outdoor activities. You can fill your days and nights with sightseeing, fine dining / restaurants, live entertainment, duty free shopping, casino gaming, island tours, botanical gardens, plantation tours, scuba diving and snorkeling, horseback riding, Kayaking, parasailing, wave runners, and much, much more! St. Croix has world class accommodations and lodging offering tourists a large selection of hotels and resorts, villa and condo rentals. The island boasts countless pristine beaches, three golf courses, great real estate opportunities, and some of the best weather in the world! Island events such as Mardi Croix and Jump Up are a blast and fun for the whole family! Check out our special offers and deals page for some great discounts.
St. Croix News and Information
Travel Information
U.S. Virgin Islands Department of Tourism
About Us | Site Map | Contact Us | Advertising | Privacy | Legal
Website design and maintenance by KVDV, Inc.
All rights reserved. KVDV, Inc., dba StCroixTourism.com 2003 - 2013
All website contents including pictures are the property of the owners of this website, unless otherwise noted, and may not be used for any other purpose without express written permission by the owners of this website. If you see errors, bad links or any information that is out of date or incorrect please contact our webmaster. Thank you!
Website contents last updated on May 20, 2013