Buck Island, St. Croix, USVI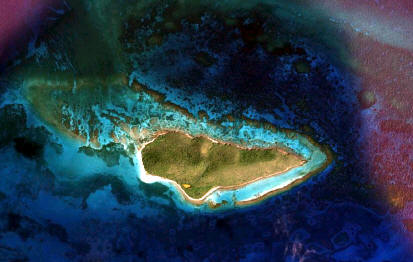 Just about a mile and a half off the north coast of St. Croix you will find an idyllic little island called Buck Island. Buck Island Reef National Monument was first protected by the US Government in 1948 to "preserve one of the finest marine gardens in the Caribbean Sea". Then in 1961, it was established as a National Monument by President Kennedy.
The park was expanded by President Clinton to include much of the water surrounding the island, an act which was not well liked by the local fisherman. The park is one of a few fully marine protected areas in the National Park System. The 176-acre island and surrounding coral reef ecosystem support a large variety of native flora and fauna, including over 250 fish species and a variety of other marine life including spotted eagle rays, Barracuda, and schools of squid.
During nesting season which runs from April through December, endangered Leatherback turtles struggle their way up onto the beach to nest while Green turtles and Hawksbill turtles nest during March thru August. Turtle Beach on the western edge of Buck Island has a spectacular and pristine white sand beach. The powder white sands of this beach has been voted one of the world's most beautiful beaches by National Geographic and the snorkeling is some of the best in the Caribbean.
Buck Island St. Croix, US Virgin Islands Videos
The large majority of the Monument area, which is administered by the National Park Service, is found underwater and attracts around 50,000 visitors a year. This is a wonderful place to take a snorkeling tour or sailing tour.
The island features a 4,554-acre long reef with lots to explore and experience in the water so if you take a snorkeling tour to the island, you will enjoy following an underwater trail on the eastern tip of the reef. The Buck Island trail is one of only three underwater trails in the United States. As you snorkel above the trail, you will see plaques on the sea bottom with information about marine flora and fauna found in and around the reef.
Two-thirds of the island is surrounded by an Elkhorn coral barrier reef, much of which was heavily damaged during hurricane Hugo in 1989. Since then, the reef and beach turtle nesting areas have made a remarkable recovery and are very active and healthy.
There are several charter companies that offer full and half day snorkeling trips to Buck Island.
Buck Island Photo Gallery