St. Croix, USVI has some of the best restaurants in the Caribbean. You will find places to eat on the island including everything from from traditional island cuisine, using the freshest of ingredients, to Chinese take-out. You'll experience everything from very fine dining restaurants, serving the freshest seafood to regular fast food restaurants like KFC, McDonald's, Wendy's and Pizza Hut... along with everything in between.! Use this dining guide to find the many great places to eat on St. Croix. The restaurants on St. Croix have it all!
Should you be staying at a private villa or condo, you can have a professional chef prepare you a meal right in the comfort and privacy of your villa or condo rental...or they can prepare your meal for you and deliver it all packaged and ready to heat up or take on a picnic!
Click on the following areas of this map for a list of restaurants.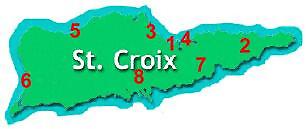 Click on a number on the map for restaurants in that area.

www.AngryNates.com1-340-692-6283

Angry Nates Boathouse & Seafood Emporium
The food, water view, ambiance and affordable prices of this restaurant located in St. Croix's town of Christiansted makes this one of the island's favorite restaurants. Angry Nates is housed at the Holger Danske Hotel, right on the boardwalk.

Happy hour, starting at 4-6pm. Local fishermen bring us the catch of the day including Tuna, Wahoo and Mahi Mahi. Our menu includes traditional American fare with fresh Caribbean flavors as well as daily specials that include but are not limited to Thai, Spanish and Mediterranean. Dine among local artwork, watch the boats and seaplane come and go from our waterfront dining room.
We serve breakfast, lunch and dinner seven days a week and offer affordable prices with a beautiful view. Reservations recommended during high season.

1-340-692-6283

It's safe to say Angry Nates is not more of the same ole' same ole'!
Avocado Pitt - Deli style bistro cafe located in Christiansted in the King Christian Hotel. Open daily from 7:00 am – 5pm for breakfast and lunch. Also has vegetarian dishes. Major credit cards accepted. 340-773-9843 ~


Bombay Club - Nice ambience with stoned walls and wood beamed ceilings. MC, VISA. x


Comanche Mill Yacht-Less Club - On the boardwalk, Wine, Spirits and Good Cruzan times. Open everyday Noon to Midnight. Happy Hours Monday - Friday 4-6pm.




Comanche Restaurant – Currently closed for renovations.


Dashi - 340-773-6911 - Specializing in Sushi. Over 30 different Maki-Sushi Rolls


Fort Christian Brew Pub – 340-713-9820 - St. Croix's only micro brewed beer! Pub food


Harbormaster Beach Club, 340-773-2035 ext. 450, Beach bar and restaurant at Hotel On The Cay in Christiansted. On Tuesday night there is a beach barbeque floor show. Call for reservations. AX, MC, Visa


Harvey's - 340-773-3433 - experience local Caribbean food such as mutton stew, fish cakes, curried goat and pates. Don't leave St. Croix without trying some "real" local food...give it a try! You'll see murals of professional basketball star Tim Duncan on the outside of the restaurant (Tim was raised on St. Croix!). Don't be shy...the prices are reasonable, the staff is friendly and the food is fantastic!

Ivy's Ice Cream & Deli - Kings Alley Walk - 340-771-0452


Kendrick's - 340-773-9199, Seafood, Meat, Pasta - located in Christiansted's historic Quin house complex on King Cross and Company streets. For years a highly esteemed name among St. Croix restaurants. AX, MC, VISA


Kim's - 340-773-3377 - 45 King Street, Local and Caribbean food. Definitely worth a visit! Lunch and Dinner


Luncheria - 340-773-4247 - 6 Company Street, Christiansted - The Best Frozen Margaritas on the island as well as cheap and good Mexican Food. Lunch and Dinner 11a-9p Mon-Sat.


Paradise Café – 340-773-2985 - breakfast, lunch, dinner and adult beverages. Open Monday thru Saturday from 7:30 am to 10 pm. Cash only.


Pickled Greek - 340-713-1868, Greek favorites like dolmades (stuffed grape leaves), souvlaki, authentic gyros, mousaka and Chef Aaron's famous Greek pizzas. Hours: Monday - Saturday 4pm - 10pm. Call for reservations, take out, and private parties. ~


Rum Runners - 340-773-6585 – Prime rib, steaks, Seafood and Lobster, - Open for breakfast lunch and dinner, Sunday brunch 10 - 2, Happy hour 4 - 6 PM. Major credit cards accepted.


Rum Runners Deck Bar - 340-773-6585 - The Deck Bar- now open 7 days a week from 4:00 pm - 9:00pm. Daily Panini specials.


Savant - 340-713-8666 - Caribbean, Thai and Mexican influenced dishes ...absolutely wonderful! Indoor and outdoor dining and bar. Plenty of parking in the rear.


Singh's Fast Food - 340-773-7357 - West Indian/Caribbean. Great local food to go. In business for over 25 years, Singh's offers Roti (sort of an island burrito), curry goat, chicken, beef, or shrimp local sides. Be sure to try some!

Giovanni's - 340-719-1774 - Pizza, Italian dishes, coffee, desserts.




The Golden Rail Cafe

- 340-719-1989 - Breakfast, lunch, and dinner. 6a-9p, Sunday Brunch 9a-2p Located at St. Croix Marine in Gallows Bay - Casual alfresco dining in a marina atmosphere on the water with a beautiful view of Christiansted Harbor. Lobster bisque, homemade crab cakes, fresh local fish, pasta, and chicken.
AX, MC, V, D


Morning Glory – 340-773-6620 - Coffee House, Beignets, muffins, sandwiches, wraps, salads.


No Bones Cafe - 340-773-2128 - Gallows Bay, Christiansted, Closed weekends in summer. Full Bar. Reservations Requested for dinner, AX, MC, V

Schooner Bay Market - 340-773-3232 - Deli department with hot and cold food to take out.


Sharkey's Bait Stand - 1-340-719-9935 - Sports Bar


Tutto Bene – 340-773-5229 - traditional southern Italian dishes.

ITALIAN AMERICAN & CARIBBEAN CUISINE

Experience homemade pastas, succulent veal and seafood dishes with fabulous desserts and wines at the Cultured Pelican restaurant. All selections on our menu are prepared fresh daily from the finest ingredients available. It is a combination of my family's enduring recipes as well as my chef's imaginative flair.

We hope you will enjoy our fine food, good spirits and tropical ambiance. Daily specials feature a selection of the freshest seafood and other local produce. The best pizza on St. Croix is available for take-out. Open for dinner seven days a week (5-9pm), and a truly relaxing tropical Sunday brunch 10am-4pm. MC, VISA, AMEX 1-340-773-3333
www.CulturedPelican.com

Deep End Bar – 340-773-4455 - Beach bar and restaurant located at the Tamarind Reef Hotel and Green Cay marina. Beautifully remodeled and expanded. AX, MC, VISA, DC.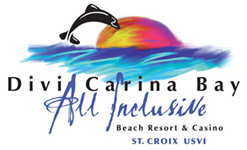 A Wide Range of Dining Choices to Suit Any
Mood in St. Croix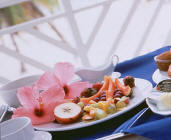 The Starlite Grille serves breakfast daily against the breathtaking views of Carina Bay.
Casual dining is available at the Dockside Café and Deli - a colorful, market-style setting just steps from the beach. The Dockside Café serves breakfast, lunch, light snacks and dinner daily.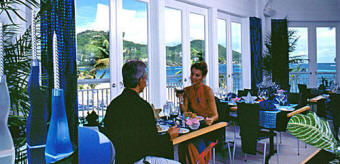 On Thursday nights, enjoy our Caribbean Beach Bar-B-Que which hosts local cuisine, vendors, and live music. A new restaurant is now open to satisfy those Italian taste buds. East End Pizza is an open-air pizza restaurant serving pizza, calzones, panini sandwiches, and a variety of salads and appetizers Wednesday thru Sunday.

1-340-773-9700, 877-773-9700
www.DiviCarina.com/Dining


Duggan's Reef -

340-773-9800 - Seafood & Steaks, in an open-to-the-breeze setting right on the beach!


The Galleon - 1-340-773-9949 - imaginative appetizers, fresh salads and seafood, choice meats and luscious desserts.


Topside Restaurant and Quarterdeck Bar - 340-719-4838


Mahi's at Chenay Bay Resort - 340-773-2918 ext. 316 - "Classic Cuisine With A Caribbean Flair" MC, Visa Reservations accepted.

West of Christiansted
H2O at Hibiscus Beach Resort - With breathtaking views from the seaside dining room and lounge, even locals proclaim, "This is why we're in the Caribbean" each time they come back!
Contemporary cuisine in a setting straight out of a postcard ~ Our Beachfront, Oceanside Restaurant is surrounded by stunning beach, the sounds of crashing waves, and magnificent horizon vistas of aqua blue waters with infinite blue skies. Our Restaurant is convenient to our hotel guests and is also popular among local Islanders.

LOW SEASON HOURS - September and October 2011

Breakfast -7:30 am to 10 am daily; Lunch - 11:30 am to 2 pm;
Dinner - 5 pm to 8 pm daily
(reservations for parties of 4 or more accepted until 9 pm)

Bar Hours: 11:30 am to Closing (9, 10, 11 pm or til whenever. . . )

Website: H2O - Reservations appreciated. 340-718-0735 MC, VISA, Discover, Amex.


Breezes Beach Bar- 340-718-7077 - Seafood, salads, pastas, prime rib, brunch, etc.


Smuggler's Cove Bar & Restaurant - 340-718-1333 - located at the Mill Harbour Condominiums.


The Palms at Pelican Cove - 340-718-8920 - located at Pelican Cove Condos.


Salud! Bistro - 340-718-7900 - Mediterranean




Beachside Cafe at Sand Castle On The Beach - 340-772-1205 - VISA, MC and Travelers Checks accepted, Reservations recommended.

Lost Dog Pub - 340-772-3526 located on King Street in Frederiksted, Pizza, pasta and Italian American food. A courtyard in back and a busy pub setting in front.


Pier 69 - 340-772-0069 - American, Mexican


Polly's at the Pier - 340-719-9434, soups, salads, wraps, ice cream and more, Mon-Fri 7:00 AM until...., Sat & Sun 8 AM until...


Turtles Deli/Liquors - 340-772-3676 - Hot & cold sandwiches, salads, fresh baked breads. Seaside lunch on covered patio or to go.


"while in Frederiksted we got a tip from some locals about a small beachfront sandwich shop. The Ruben sandwich there was the best we ever had (anywhere)...the sandwich shop was called (Turtles) and was on the south end of the street where they have carnival night." email from "Backdr98"


Villa Morales - 340-772-0556 Located just outside of Frederiksted, Villa Morales specializes in both West Indian and Spanish cuisine.


West End Grill - 340-772-2160 - Local Crucian & Latin - Cash or Travelers Checks Only.
330 King St. Downtown Frederiksted
Inspiring St. Croix cuisine…

Open-air restaurants, extensive wine cabinet, and Caribbean attentive service welcome you to our restaurants at the Renaissance Carambola Beach Resort & Spa. Take in an amazing Caribbean Island sunrise or sunset as you dine…Experience the famous "Pirates Buffet & Mocko Jumbies Show" every Friday night.

Saman Restaurant – Choose breakfast on the terrace or inside.
Flamboyant Beach Bar - Poolside by the beach.


www.CarambolaBeach.com
340-778-3800 or 888-503-8760

Off the Wall Beach Bar - 340-778-4771 - Casual Beach Bar serving pizza, burgers, salads, sandwiches, daily specials, live music. VISA and Mastercard


Rowdy Joe's - 340-718-0055 - "good mood food" using fresh local ingredients. Enjoy an espresso, wireless Internet, watch your favorite sports, homemade ice cream.


Carambola Golf Club - 340-778-5638, at Carambola Golf Course, Open every day in Season, call for service hours May 1st - October 31st.


The Waves at Cane Bay - 340-718-1815 or 718-4745, seaside dining at The Waves hotel.

Barren Spot Bar-B-Que - 340-778-9798 - Located in the Village Mall on Centerline Rd.


Gertrude's – 340-778-8362 - Local St. Croix eatery and catering. Sandwiches, salads, burgers, seafood, chicken, steak


La Reine Chicken Shack - 340-778-5717 - "The best BBQ chicken on St. Croix!" True island culture makes this outdoor restaurant one of a kind. Kitchen is open 7 days a week from 10:30am to 5:00pm.


South Shore Café – 340-773-9311 - bistro serving Mediterranean, Seafood, Vegetarian, hand-made pasta.

China Jade – 340-778-1996 - Buffet style Chinese food for lunch and dinner


Soul Vegetarian - 340-778-4080 - African, Caribbean, and American dishes


Johnny Mango's - 340-778-5556 - ribs, chicken and brisket, chicken and goat stew, local favorites.

Carambola Golf Club - Gary Klienfelter, 340-244-4595

Schooner Bay Market - 340-773-3232

Cafe Fresco - 340-719-0126 - Penthany Courtyard, Christiansted

Top Class Catering - 340-773-0632 - Contact: Burton Peterson

Tutto Bene - 340-773-5229 - Near Gallows Bay

Updated March 13, 2013