St. Croix Restaurant and Dining Guide
Great Places to Eat on St. Croix
St. Croix, USVI has some of the best restaurants and bars in the Caribbean. You will find places to eat on the island including everything from from traditional island cuisine, using the freshest of ingredients, to Chinese take-out. You'll experience everything from very fine dining restaurants, serving the freshest seafood, to fun beach bars, to regular fast food restaurants like KFC, McDonald's, Wendy's and Pizza Hut... along with everything in between.! Use this dining guide to find the many great places to eat on St. Croix. The restaurants on St. Croix have it all!
If you are staying at a private villa or condo, you can have a professional chef prepare you a meal in the comfort and privacy of your villa or condo rental...or they can prepare your meal for you and deliver it all packaged and ready to heat up or take on a picnic!

Angry Nates Boathouse & Seafood Emporium

The food, water view, ambiance and affordable prices of this restaurant located in St. Croix's town of Christiansted makes this one of the island's favorite restaurants. Angry Nates is housed at the Holger Danske Hotel, right on the boardwalk.

Happy hour, starting at 4-6pm. Local fishermen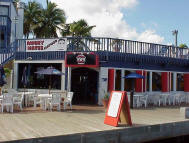 bring us the catch of the day including Tuna, Wahoo and Mahi Mahi. Our menu includes traditional American fare with fresh Caribbean flavors as well as daily specials that include but are not limited to Thai, Spanish and Mediterranean. Dine among local artwork, watch the boats and seaplane come and go from our waterfront dining room. We serve breakfast, lunch and dinner seven days a week and offer affordable prices with a beautiful view. Reservations recommended during high season.
1-340-692-6283 - www.angrynates-stx.com
It's safe to say Angry Nates is not more of the same ole' same ole'!
Avocado Pitt - Deli style bistro cafe located in Christiansted in the King Christian Hotel. Open daily from 7:00 am – 5pm for breakfast and lunch. Also has vegetarian dishes. Major credit cards accepted. 340-773-9843
Bombay Club
- Nice ambience with stoned walls and wood beamed ceilings. MC, VISA.
Comanche Mill Yacht-Less Club
- On the boardwalk, Wine, Spirits and Good Cruzan times. Open everyday Noon to Midnight. Happy Hours Monday - Friday 4-6pm.
Dashi
- 340-773-6911 - Specializing in Sushi. Over 30 different Maki-Sushi Rolls
Fort Christian Brew Pub
– 340-713-9820 - St. Croix's only micro brewed beer! Pub food.
Harvey's - 340-773-3433 - experience local Caribbean food such as mutton stew, fish cakes, curried goat and pates. Don't leave St. Croix without trying some "real" local food...give it a try! You'll see murals of professional basketball star Tim Duncan on the outside of the restaurant (Tim was raised on St. Croix!). Don't be shy...the prices are reasonable, the staff is friendly and the food is fantastic! Open 11:30am - 3:00pm.
Kim's - 340-773-3377
Luncheria - 340-773-4247 - 6 Company Street, Christiansted - The Best Frozen Margaritas on the island as well as cheap and good Mexican Food. Lunch and Dinner 11a-9p Mon-Sat.
Paradise Café – 340-773-2985 - breakfast, lunch, dinner and adult beverages. Open Monday thru Saturday from 7:30 am to 10 pm. Cash only.
Pickled Greek - 340-713-1868, Greek favorites like dolmades (stuffed grape leaves), souvlaki, authentic gyros, mousaka and Chef Aaron's famous Greek pizzas. Hours: Monday - Saturday 4pm - 10pm. Call for reservations, take out, and private parties. ~
Rum Runners - 340-773-6585 – Prime rib, steaks, Seafood and Lobster, - Open for breakfast lunch and dinner, Sunday brunch 10 - 2, Happy hour 4 - 6 PM. Major credit cards accepted.
Rum Runners Deck Bar - 340-773-6585 - The Deck Bar- now open 7 days a week from 4:00 pm - 9:00pm. Daily Panini specials.
Savant - 340-713-8666 - Caribbean, Thai and Mexican influenced dishes ...absolutely wonderful! Indoor and outdoor dining and bar. Plenty of parking in the rear.
Singh's Fast Food - 340-773-7357 - West Indian/Caribbean. Great local food to go. In business for over 25 years, Singh's offers Roti (sort of an island burrito), curry goat, chicken, beef, or shrimp local sides. Be sure to try some!
You Are Here Bar & Grill - 340-713-0246 - Lounge and Relax. You Are Here Bar & Grille offers an assortment of menu options including The Best Pizza in the U.S. Virgin Islands! We have award winning items that have been recognized by "The Taste of St. Croix". So Come on in and stay a while! Monday-Saturday 11am-11pm, Sunday Noon-9pm, located at 1000 King Street, Christiansted, St. Croix USVI 00820
Zion Modern Kitchen - 340-773-9466 - simple food. quality sources. made with love. Finest steaks, chops, seafood, pasta. We care about what you eat. We cook with fresh and sustainably raised foods when at all possible and to treat each meal and customer with love and respect. Vegan options available. Open Tuesday - Sunday, 5-10pm, reservations recommended
No Bones Cafe - 340-773-2128 - Gallows Bay, Christiansted, Closed weekends in summer. Full Bar. Reservations Requested for dinner, AX, MC, V
Sharkey's Bait Stand - 1-340-719-9935 - Sports Bar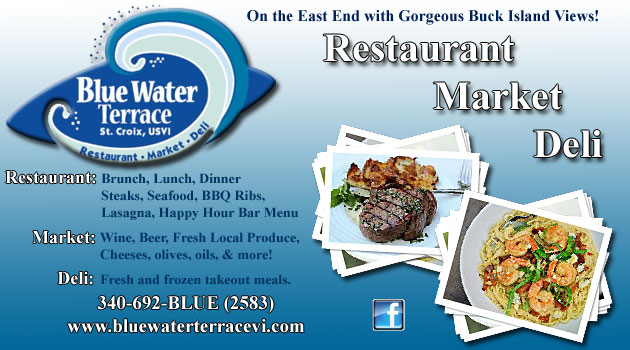 The Mermaid is located beach side, at the Buccaneer Resort, with an extensive menu of savory seafood and specials, soups, salads and sandwiches, and gourmet meals that include all-American favorites, island specialties and vegetarian.
There is also a full bar, including frozen island favorites and vintage cocktails.
Open for lunch and dinner. We have ample parking. Call for reservations. The Terrace Restaurant, located in the Buccaneer Great House, offers fine dining nightly.

email: concierge@thebuccaneer.com reservations recommended.
www.TheBuccaneer.com/dine - 340-712-2100
CULTURED PELICAN RISTORANTE
"Home Style Italian Cuisine"

ALL SELECTIONS ON OUR MENU ARE PREPARED FRESH DAILY FROM THE FINEST INGREDIENTS AVAILABLE. IT IS A COMBINATION OF MY FAMILY'S ENDURING RECIPES AS WELL AS MY IMAGINATIVE FLAIR. FRESH PASTA, VEAL, SEAFOOD AND N.Y. STYLE PIZZA ARE ALWAYS AVAILABLE TO DINE IN OR TAKE OUT.

Join us for Super Thursday's. Buy one entrée and get the second of equal or lesser value for FREE.

Tuesday - Sunday eve's for dinner from 6pm. VISA & MC. Coakley Bay Condos.

340-773-3333
Deep End Bar & Grill – 340-718-7071 - Beach bar and restaurant located at the Tamarind Reef Hotel and Green Cay marina. Breakfast, Lunch and Dinner. Beautifully remodeled and expanded. AX, MC, VISA, DC.
Duggan's Reef - 340-773-9800 - Seafood & Steaks, in an open-to-the-breeze setting right on the beach!

West of Christiansted
Breezes Beach Bar - 340-718-7077 - Seafood, salads, pastas, prime rib, brunch, etc.
The Palms at Pelican Cove - 340-718-8920 - located at Pelican Cove Condos.
Salud! Bistro - 340-718-7900 - Mediterranean Influenced, Caribbean Inspired Fine Dining. Fabulous wine list & Craft Cocktails. Live Music every Tuesday & Friday. Tuesday: Spanish Night with Paella and 2 for 1 wines. Saturday: Italian Date Night, $5 off Italian Wines. Located in Princess Plaza, Ample parking. Open Monday - Saturday 5:30 - 9:30pm
Seini's Golden Rail
- Mill Harbour condos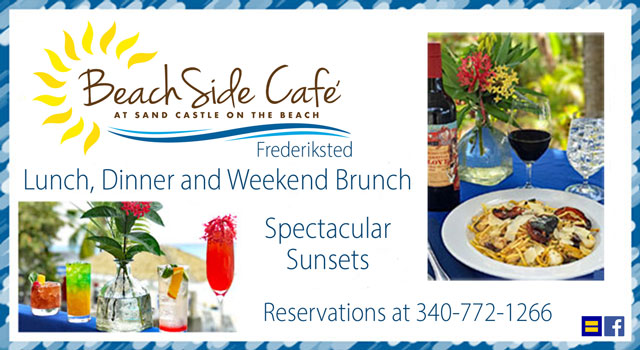 Beach Side Cafe at Sand Castle On The Beach - 340-772-1205 - Reservations recommended; www.beachsidecafestx.com; Accepts Visa, MC, Amex and Traveler's Checks. Open-Air, Beachfront Dining serving Eclectic, Continental fare for Lunch, Small Plates, Dinner, Sunday Brunch and Delicious Tropical Cocktails at the Iguana Lounge. Live local music every Saturday night 6:30-9:30.
Lost Dog Pub - 340-772-3526 located on King Street in Frederiksted, Pizza, pasta and Italian American food. A courtyard in back and a busy pub setting in front.
Pier 69 - 340-772-0069 - American, Mexican
Polly's at the Pier - 340-719-9434
Turtles Deli/Liquors - 340-772-3676 - Hot & cold sandwiches, salads, fresh baked breads. Seaside lunch on covered patio or to go.
Villa Morales - 340-772-0556 Located just outside of Frederiksted, Villa Morales specializes in both West Indian and Spanish cuisine.
West End Grill - 340-772-2160 - Local Crucian & Latin - Cash or Travelers Checks Only.
330 King St. Downtown Frederiksted
Off the Wall Beach Bar - 340-778-4771 - Casual Beach Bar serving pizza, burgers, salads, sandwiches, daily specials, live music. VISA and Mastercard
Rowdy Joe's - 340-718-0055 - "good mood food" using fresh local ingredients. Enjoy an espresso, wireless Internet, watch your favorite sports, homemade ice cream.
Carambola Golf Club - 340-778-5638, at Carambola Golf Course, Open every day in Season, call for service hours May 1st - October 31st.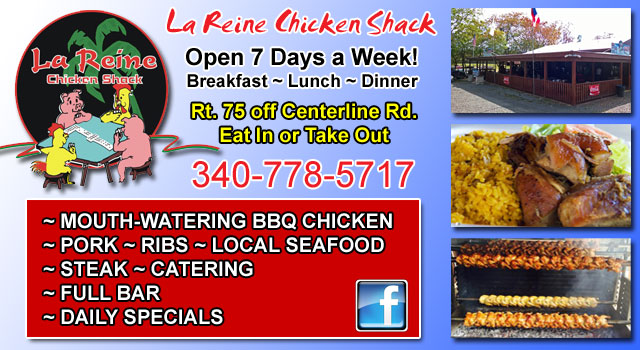 La Reine Chicken Shack - 340-778-5717 - "The best BBQ chicken on St. Croix!" True island culture makes this outdoor restaurant one of a kind. Kitchen is open 7 days a week from 10:30am to 5:00pm.
Gertrude's – 340-778-8362 - Local St. Croix eatery and catering. Sandwiches, salads, burgers, seafood, chicken, steak
China Jade – 340-778-1996 - Buffet style Chinese food for lunch and dinner
Soul Vegetarian - 340-778-4080 - African, Caribbean, and American dishes
Carambola Golf Club - Gary Klienfelter, 340-244-4595

Top Class Catering - 340-773-0632 - Contact: Burton Peterson