St. Croix Snorkeling and Snorkeling Tours USVI -U.S. Virgin Islands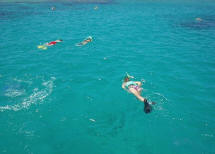 St. Croix has some of the best snorkeling in the Caribbean! You will find superb snorkeling at many of the island's beaches including Cane Bay Beach, Jack's and Isaac's Bays and the beaches near Frederiksted...just to name a few. Of course, you'll want to take a snorkeling tour to Buck Island, famous for its underwater snorkeling trail.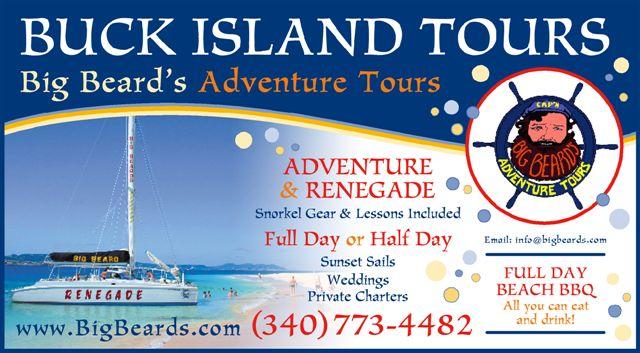 Big Beard's Adventure Tours - 340-773-4482 - Snorkel Gear and Lessons included. Full and Half Day Buck Island Tours. Sunset Sails, Weddings, Private Charters
Bilinda Charters - 340-514-2270 - a 37' sloop - 6 person max.
Buck Island Charters - 340-718-3161 - Departs from Green Cay Marina, 'H'-Dock
Captain Heinz' Teroro II - Trimaran, Buck Island tours, 340-773-3161
Caribbean Sea Adventures - 340-773-2628 - 59 King's Wharf, Christiansted
Jolly Roger - 340-513-2508 - 42 catamaran.
Here are a couple of the best snorkeling sites on St. Croix. There are just way too many for us to list them all! Go out an explore and ask the locals...they won't bite!
Cane Bay: One of the island's best diving and snorkeling sites is off this beautiful north-shore beach. On most days, you can swim out a few hundred feet to see the Cane Bay Wall, which drops off dramatically from 40 feet of water to over 3000 feet deep! Multicolored fish, sea turtles and other sea life including Elkhorn, brain coral, and sea fans flourish here.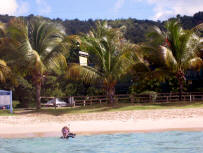 Buck Island: This little island, whose land and offshore waters are designated as a national monument, lies 1.5 miles off the north coast of St. Croix. More than 250 recorded species of fish swim through its reef system. A variety of sponges, corals, and crustaceans also inhabit the area. Click here for more Buck Island Information
Jack's & Isaac's Bays - On the southeast tip of St. Croix, these two bays are remote but well worth the hike it takes to get there. Part of the St. Croix East End Marine Park, these two pristine bays have fabulous beaches and some of the best snorkeling on the island.
West End Beaches - There are numerous spots along the western coast of the island, on either side of Frederiksted, that offer calm waters and good snorkeling.
Snorkel Gear - Renting and Purchasing Equipment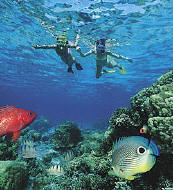 If you don't want to cart your own snorkeling equipment on the plane with you to St. Croix, there are several places on the island to either rent or purchase gear. Most tour companies will supply everything you need, mask, snorkel and fins, as part of the fee for a snorkeling tour. Some villa and condo rentals will have some equipment for your use, and Hotels and Resorts may also have a limited assortment of gear for you to rent.
Kmart - Two locations on the island...Sunny Isle Shopping center and Centerline Rd towards Frederiksted. (Purchase)

Cane Bay Dive Shop - 1-800-338-3843 - (340) 718-9913 - located in Frederiksted. (Rentals and purchase)
Cost-U-Less - 340-719-4442 - An island version of Costco...without the membership fees. Located on Route 70 in Sion Farms just east of Sunny Isle (mid-island).