Kayak Tours and Rentals on St. Croix
Are you a fan of Kayaking? Whether you are or don't yet know that you are, we highly recommend kayaking the waters of St. Croix. Kayaking tours and rentals are offered by several companies on the island and include a night-time Bioluminescence Bay tour, historical and ecological tours, and even camping adventure tours. You can kayak the calm waters of the Salt River Bay National Park or rent a kayak in Cane Bay and explore the waters of the open Caribbean ocean!
Bioluminescent Bays
A highlight is a nighttime Bioluminescence tour. St. Croix has not one, but two, bioluminescent bays. January through February are the best months to enjoy this spectacle, and the best nights during this time period is when there is no moon, but you can still enjoy a Bioluminescence kayak tour year round. Click here for more information about the Bio-bays of St. Croix.
Cruise ship passengers can also enjoy a kayaking tour. Each company on the island is easily reached by taxi and can be easily fit into your visit to the island. There are several Kayak Tour companies are on the island and they will take you on a guided tour or you can rent a kayak and go exploring on your own!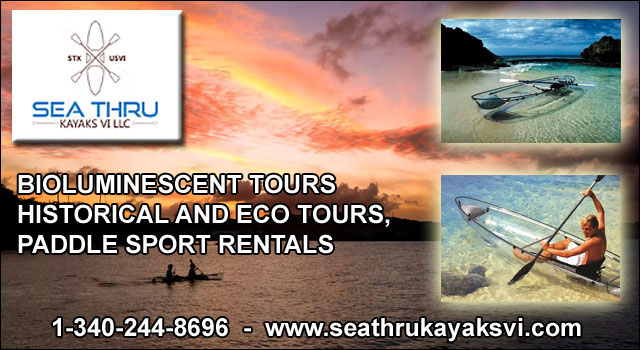 Sea Thru Kayaks VI - 340-244-8696 - offering nighttime guided kayak tours of the bioluminescent bay on St. Croix in the US Virgin Islands. Our tours launch from Salt River Marina at nightfall and utilize fully transparent "sea thru" kayaks to provide each guest with a uniquely unobstructed view of the waters around them, allowing each kayak to become fully immersed in the glowing bioluminescent wonder!

Come see for yourself why Sea Thru Kayaks VI is the only way to fully immerse yourself in the wonders of the water below. After a trip with Sea Thru Kayaks VI, you'll see St. Croix in a different light! www.seathrukayaksvi.com

Welcome to BUSHTRIBE ECO ADVENTURES!!! Your one stop for all your adventurous needs in St Croix.

Create your own adventure! We specialize in personalized custom tours including Kayaking and Hiking Tours.

www.BushTribe.com 1-340-277-2503