Hurricane Maria Relief and Support Information - St. Croix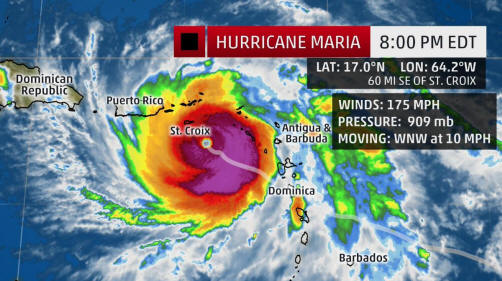 St. Croix was significantly impacted by hurricane Maria. The eye wall of the hurricane passed about 10-20 miles to the south of the island. Damage to the island was significant, however, most structures on the island did very well, with only minor damage to some. Many poorly constructed homes and buildings suffered extensive damage. The same cannot be said about the vegetation, trees and the power grid. There are many trees and limbs that came down which have blocked many roads and also pulled down many power lines. Cleanup of the trees and debris will move more quickly, but restoring power will take some time.
The people of St. Croix need your help so please look below for ways that you can contribute! St. Croix, beloved by residents and visitors alike, will take some time to heal and for restoration and relief efforts to get the island back on its feet. We will come together as a community, just as we always do, and get the job done!
*** October 18, 2017 - The Governor announced further shrinking of the curfew on St. Croix, the curfew has now been reduced to 8pm to 5am ***
*** October 12, 2017 - Debris removal from private properties - Click this link for guidelines: https://drive.google.com/file/d/0B0yEKDfpyJ47eW9OSktscTY4WllTSnhRYkFyQmo2UlZSMXVB/view
*** October 5, 2017 - The Henry E. Rohlsen Airport on St. Croix reopened to commercial flights today, October 5, 2017. American Airlines (Miami), Cape Air (SJU, STX, STT), JetBlue (Ft. Lauderdale) and Seaborne (SJU, STX, STT) have flights to and from St. Croix. US Customs and TSA are fully functional. Travelers should contact the airlines directly for flight schedules. ***
Disaster Relief and Aid
DisasterAssistance.gov - Access to Disaster Help and Resources. Individuals, including homeowners, renters and those with businesses on St. Croix who suffered loss or damages due to Hurricane Maria may register for assistance online at www.disasterassistance.gov or by calling 1-800-621-FEMA (3362). Individuals who have a speech disability or hearing loss and use TTY, should call 1-800-462-7585 directly; for those who use 711 or Video Relay Service (VRS), call 1-800-621-3362.
FEMA: https://www.fema.gov/hurricane-maria and https://www.fema.gov/disaster/4340 and https://www.fema.gov/news-release/2017/09/18/federal-aid-programs-territory-us-virgin-islands-emergency-declaration
U.S. Small Business Administration (S.B.A.) is now providing low-interest loans for businesses, homeowners and renters affected by Hurricane Maria. Applicants may apply online using the Electronic Loan Application (ELA) via the SBA's secure website at https://disasterloan.sba.gov/ela
Tax Relief from IRS for Victims of Hurricane Maria in U.S. Virgin Islands - The IRS is providing help to the victims of Hurricane Maria. Special tax relief and assistance is available to taxpayers in the Presidential Disaster Areas which includes St Croix and the rest of the US Virgin Islands. https://www.irs.gov/newsroom/tax-relief-for-victims-of-hurricane-maria-in-us-virgin-islands

Food Relief
The government will open four food distribution centers on St. Croix; they are stationed at the following locations:
Cotton Valley Fire Station
Juanita Gardine Elementary School
St. Croix Educational Complex
Alexander Henderson Elementary School
October 5, 2017 - The Points of Distribution (PODs) will be closed over the next several days, and are scheduled to reopen Tuesday, October 10, and Thursday, October 12, as the Territory transitions to the Disaster Supplemental Nutrition Assistance Program (D-SNAP) and needs are supported by supermarkets.

How and Where to Report Price Gouging on St. Croix
Department of Licensing and Consumer Affairs (DLCA) - https://secure.dlca.vi.gov/license/Asps/complaint/AddComplaint.aspx?Busseq

Official Government Websites
Check with these federal and local governmental agency websites for more information:
FEMA: https://www.fema.gov/hurricane-maria and https://www.fema.gov/disaster/4340 and https://www.fema.gov/news-release/2017/09/18/federal-aid-programs-territory-us-virgin-islands-emergency-declaration

VITEMA (Virgin Islands Territorial Emergency Management Agency): www.facebook.com/vitema or http://www.vitema.gov/

USVI Department of Tourism Special Updates: www.usviupdate.com

Where/how to Contribute to the St. Croix Hurricane Relief Efforts
One America Appeal - All five living former Presidents of the United States have teamed up to launch a joint effort to raise money to help the people of Puerto Rico and the U.S. Virgin Islands recover from Hurricane Maria. You can designate your funds to go directly to St Croix on the donation page. https://www.oneamericaappeal.org/

www.canebaycares.org - Cane Bay Partners VI, LLLP owners Kirk Chewning and David Johnson are each providing a $100,000 match which will match the first $200,000 donated. Our goal is to raise awareness for the territory and $1,000,000. The money will go directly to CFVI and then will be allocated to goods and supplies needed such as generators, medical supplies, cleaning supplies, and rebuilding efforts.

Community Foundation of the Virgin Islands (CFVI) - To help those affected by the hurricane, the Community Foundation of the Virgin Islands (CFVI) has established the Fund for the Virgin Islands. https://www.usvirecovery.org/

Former San Antonio Spurs basketball star Tim Duncan, who grew up on St. Croix in the U.S. Virgin Islands, created the 21 U.S. Virgin Island Relief Fund when Irma hit the island. Now, in the aftermath of Maria, the fundraising goal has been increased to $5 million. Duncan matched the first $1 million in donations.

The Women's Coalition of St. Croix supports people impacted by domestic violence and sexual assault. It is collecting donations for those impacted by the hurricanes here. The group is also accepting care packages of toiletries (tampons, sanitary napkins, diapers and insect spray are especially needed) at the following address: Women's Coalition of St. Croix, P.O. Box 222734, Christiansted, USVI 00822-2734

The American Red Cross Safe and Well website is a free public reunification tool that allows individuals and organizations to register and post messages to indicate that they are safe, or to search for loved ones. The site is always available and open to the public and available in Spanish. Registrations and searches can be done directly on the website. Messages exist in both Spanish and English. To speak with someone at the American Red Cross concerning a missing friend or relative, please contact 1-800 REDCROSS OR 1-800-733-2767, choose option 1.


WAPA (Water & Power Authority)
340-773-0150 (to report power outages) - www.viwapa.vi
Emergency call centers will be activated in both island districts on Monday. The call centers will be the primary means by which residents can report service interruptions as reconstruction and restoration takes shape. The Emergency Call Center number on St. Croix is 340-773-0150. The centers will operate daily from 7 a.m. – 11 p.m.

Emergency Numbers
Check our emergency numbers page for more information.

St. Croix News
St. Croix Source - The St. Croix Source is a local online newspaper.
VI Consortium - The VI Consortium is an online news source located in the U.S. Virgin Islands dedicated to bringing readers the latest VI news.