St. Croix Marinas, Harbors, Anchorages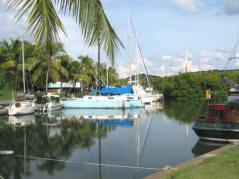 The U.S. Virgin Islands is regarded one of the best sailing locations in the world. The islands offer warm, sunny weather, reliable trade winds, breathtaking scenery and plenty of protected anchorages.
St. Croix has several fine marinas to choose from. There are also several areas of the island that offer anchorages and moorings for day use and overnight stays. The island has about 50 moorings that are free to boaters. These moorings are for daytime use only, and no vessels over 60 feet are allowed. There is a 3 hour limit for the use of these moorings. These free moorings were installed to help protect the fragile coral reefs that surround much of St. Croix. Because of these reefs surrounding the island, be sure that you have accurate and up to date charts to safely navigate St. Croix's waters.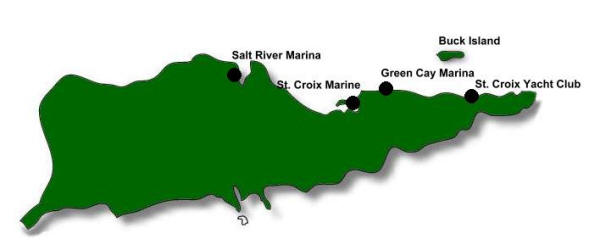 St. Croix Marinas
Green Cay Marina - 340-773-1453
Salt River Marina - 340-778-9650
St. Croix Marine - 340-773-0421
St. Croix Yacht Club - 340-773-9531- (Members Only)

Designated Mooring and Anchoring Areas for St. Croix
~Christiansted Harbor
~Frederiksted Harbor
~Chenay Bay
~Cotton Garden Bay
~Salt River
~Teague Bay
There are restrictions on vessels traveling through and anchoring in National Park waters around St. Croix, (ie: Buck Island). Please contact the National Park Service for details on their regulations; -340-773-1460
For More information
Mooring permits are issued to an owner of a registered vessel. In order to obtain a permit for anchoring or mooring an applicant is required to apply in person, through a resident agent or through any representative duly authorized to complete application procedures in the owner's behalf." Section 405-1 Application Instructions and Procedures for Mooring. Click here for National Park Service Mooring Information.

Information for anchorage sites and regulations was provided by the Department of Planning and Natural Resources Booklet on Rules and Regulations for Mooring and Anchoring Vessels in the US Virgin Islands. Dept. Of Planning and Natural Resources - 340-774-3320
For more information about anchorage and mooring sites, mooring permits, registration and other detailed information and regulations please contact the Department of Planning and Natural Resources: 340-772-1955 for St. Croix.