Sailing - Buck Island Tours - Boat Charters
Spend a day aboard a sailboat or Catamaran on a tour to Buck Island for some of the best snorkeling in the Caribbean. The waters surrounding St Croix are a sailors paradise with almost perpetual trade winds that make sailing a dream come true. Buck Island National Monument is a favorite destination for many of the island's tour operations. You can take a large Catamaran, a smaller mono-hulled sailboat or charter a boat for the day to take you and several of you family and friends for a great day of sailing and snorkeling in the crystal clear waters of the Caribbean Sea!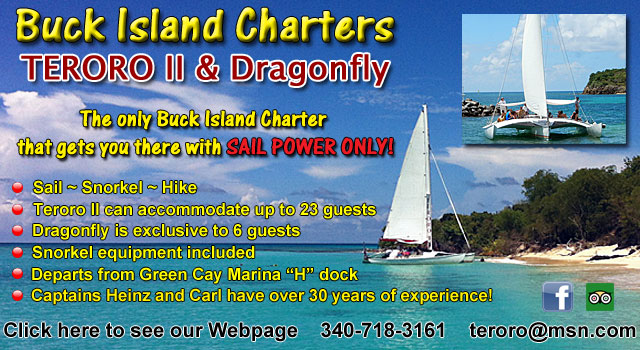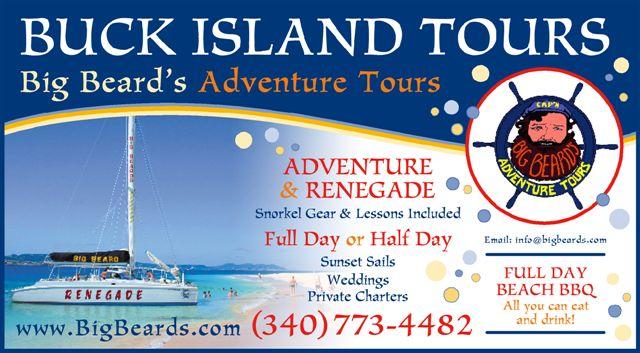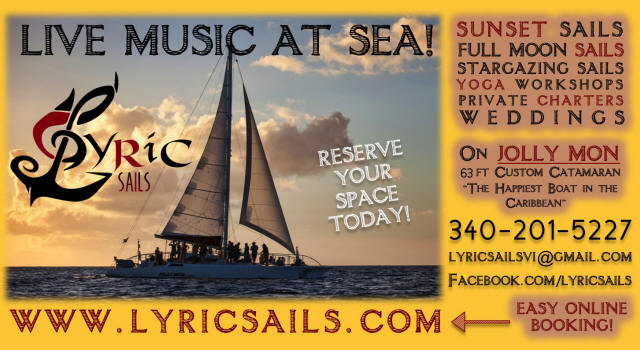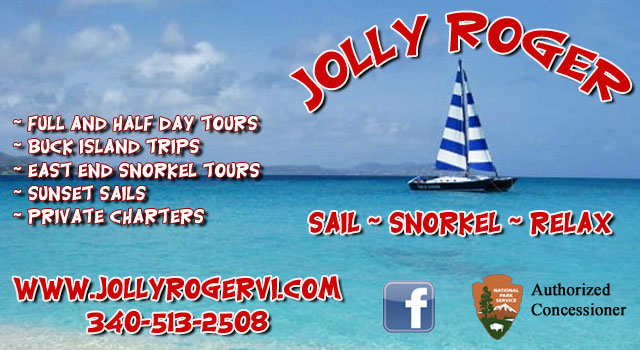 Big Beards's Adventure Tours - 340-773-4482 - Buck Island Tours, Snorkel Gear & Lessons Included. Full Day or Half Day Sunset Sails, Weddings, Private Charters. Full Day Beach BBQ...all you can eat and drink!
Buck Island Charters - Teroro II & Dragonfly - 340-718-3161- enjoy smooth sailing aboard the Teroro II and Dragonfly with Captain Heinz or Capt Carl at the helm. Walk Buck Island's pristine white sand beach, take some time and hike to the top of the island for incredible views and then enjoy the world-renowned underwater snorkel trail that Buck Island National Monument is famous for! Either trimaran is perfect for large or small private parties. Teroro can accommodate up to 23 guests, while Dragonfly hosts a more intimate sail with up to 6 guests. Click here to visit our webpage.
Jasmyn Charters - 603-781-9864 - Christiansted Harbor (Nov. - May)
Jolly Roger Charters - 340-513-2508 - Sail, Snorkel, Relax! Full and half day tours, Buck Island Trips, East End Snorkel Tours, Sunset Sails, Private Charters.
Lyric Sails St. Croix - 340-201-5227 - St. Croix's Newest Excursion! Lyric Sails is now offering private day sailing charters out of Frederiksted. We can take groups from 1-25 people. Rates start at $75 per person for a half-day trip, $100 per person for a full day trip. Itinerary is customizable and includes sailing, snorkeling shipwrecks and reefs, and just relaxing in the calm, tropical waters of Frederiksted. Snacks (half-day) and lunch (full day) and beverages are included. We also feature Sunset Sails, Stargazing Sails and Moonlight Sails with live music departing from Frederiksted! Full Bar. Yoga Workshops. Private Charters, Weddings. Book online at LyricSails.com
Llewellyn's Charter - 340-773-9027
Roseway - 340-626-7877 - fully restored 137 foot schooner built in 1925. more info...
St. Croix Yacht Club - 340-773-9531