Cruise Ship Visits: '"The Island is Beautiful'
by Carol Buchanan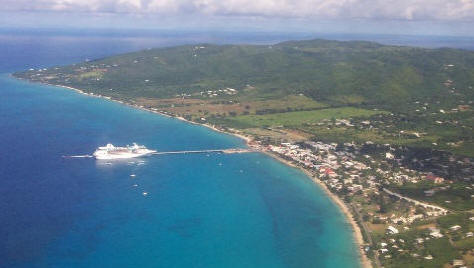 The general manager of the Regent Seven Seas Cruise's ship Navigator had nothing but praise for St. Croix during its first call to the big island Thursday.
"Our guests are extremely spoiled and have been everywhere and they look for new places," said Engelbert Lainer Wartenberg, general manager. "You have the most amazing, beautiful beaches."
He said St. Croix is untouched and there is a future here for return trips.
"We have a niche and diversity that appeals to certain cruise ship passengers," said Brad Nugent, assistant commissioner for the Department of Tourism. "We market to people who have a different taste -- those who come and have an expectation of peace."
In celebration of Navigator's first call on St. Croix, officials from the Department of Tourism presented Wartenberg with a hand-carved mahogany plaque in the shape of St. Croix made by local woodworker, Carl Spanner.
"We are very happy you made St. Croix a port of call," said Alvin Milligan, director of cruise activities for the Department of Tourism, as he presented the ship's representatives with a bottle of Cruzan single barrel rum.
"The island is beautiful," said Ubaldo Armellino, staff captain. "We look forward to another tour."
The five-star luxury vessel had a full ship with 502 passengers on an all-inclusive wine spotlight themed cruise that docked at the Ann Abramson Pier at 9 a.m.
"We offer five-star service to high-repeat passengers who expect more and greater experiences," Wartenberg said.
Frequent passengers on the Seven Seas cruise line Marilyn Ricker and Mary Dulea from New Jersey said they had been to Sand Castles on the Beach where they had a lovely lunch.
"We were very impressed with St. Croix -- it was beautiful," said Dulea.
Paul and Cheryl Harding from Canada, who had done an island-wide tour, were so impressed with St. Croix they want to come back and spend a week.
"This is one gorgeous island -- the nicest one we have stopped at on any Caribbean cruise," said Paul Harding.
The Southern Caribbean and Lesser Antilles cruise began in Ft. Lauderdale, FL. The order of the ports of call were Aruba, Curacao, Dominica, St. Lucia, St. Croix, Puerto Rico and Turks and Caicos.