"FEEL SAINT CROIX"
FOOD, FUN AND PHILANTHROPY
April 4 - 7, 2019
In 2001, two local restaurateurs, Kelly Odom and Katherine Pugliese, started A Taste of St. Croix to celebrate and showcase the diverse cuisine on St. Croix in the US Virgin Islands. An instant success, the founders then chose the St. Croix Foundation to be the steward of the event's proceeds and to invest it into critical community initiatives. As A Taste of St. Croix grew, so too did the number of events and supporters and it soon expanded into the St. Croix Food & Wine Experience. Today, the week-long events attract more than 3000 guests, including travel writers, vintners, chefs, and foodies.

2019 Event Lineup
JOIN US FOR AN UNFORGETTABLE EXPERIENCE!

bond @ balter
Thursday 04/04/19 - 4:30pm
Exclusive spirits and appetizers at balter restaurant, combined with some of our community's most passionate philanthropists, makes this an event not to be missed!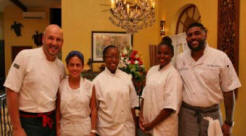 Cork and Fork
Friday 04/05/19 - 6:00pm
The sophisticated Cork & Fork Dinner returns for 2019! Always with a renowned chef. Always in a stunning private home. Always the height of elegance and intimacy. (more info...)



Sunset BBQ
Friday 04/05/19 - 6:00pm
Our much-loved Sunset BBQ is back! Bring the family out for the perfect Crucian sunset and finger-licking BBQ treats from some of St. Croix's finest restaurants and eateries. With live music, a raffle, and plenty of room to roam, there's something for everyone! (more info...)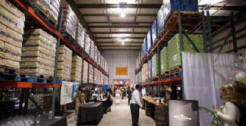 Wine in the Warehouse
Sunday 04/06/19 at 6:00pm
Let your cup overflow with the spirit of philanthropy as we raise a glass to the resiliency of our community. Enjoy several stations of delectable cuisine and wines that will have your taste-buds dancing. Bohlke International Airways. $125pp

Gourmet Vintner Dinner
Sunday 04/07/19 - 6:00pm
This lively and community-centric dining experience pairs fabulous wines with a 5-course meal and includes a gourmet themed auction. (more info...)
Note: For information about St. Croix Food and Wine Experience visit their website at: